5 August 2020
Polish remote ERC MarsYard officially opened
Preparations for the sixth edition of the ERC Space and Robotics Event have entered the next phase. This year's event is carried out in a hybrid formula using technologies that enable teams from around the world to remotely participate in the competition. The American remote management system and mobile vehicles provided by a Polish robotic start-up were used to create an innovative platform. In September teams will use this system to remotely control the robot located on the Martian track in Poland. This is the first solution of this type in the world.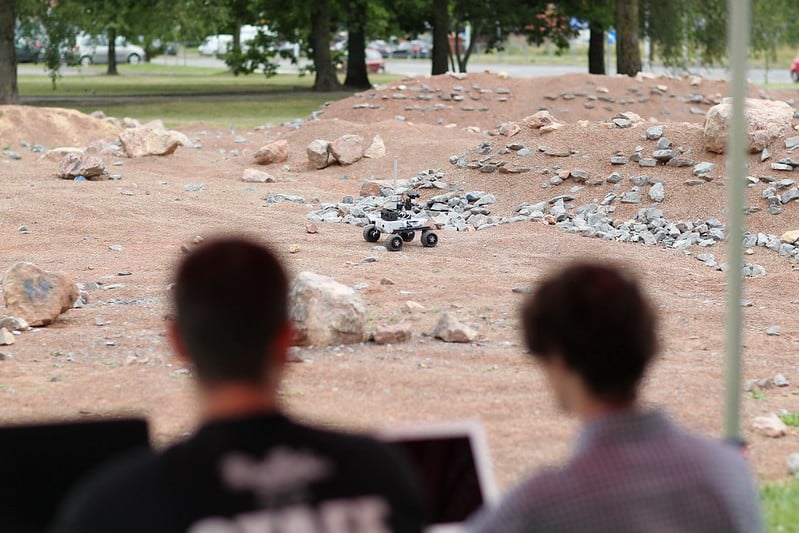 33 teams from 14 countries around the world qualified for the ERC 2020 finals, which will take place on September 11-13, 2020 (the full list of teams is available at www.roverchallenge.eu). In the next stage of the competition, the finalists are faced with the task of programming a robot to take part in the competition and testing the algorithms that allow the vehicle to be navigated from a distance. The latter will be enabled by a system for remote robot management, designed especially for the ERC competition, which was publicly presented on August 5. The first test run was made by Wojciech Murdzek, Minister of Science and Higher Education of the Republic of Poland. He noted after the test: 
As an engineer, I am impressed with the creativity with which the organizers of the competition approached the implementation of this year's edition of the ERC competition. The spirit of innovation, team cooperation and focus on finding non-standard solutions to interdisciplinary problems are the features that Poles are known for abroad. And today, thanks to this approach, we can boast that the ERC is the only space-robotic tournament in the world that will take place after the declaration of a global pandemic. 
The international competition of mobile robots ERC 2020 will also be accompanied by an industry conference as well as the Science and Technology Show Zone with an extensive program of workshops, interactive shows and popular science lectures. Space, robotics and high technology enthusiasts will also be able to take part in the ERC Rover Mechanic Challenge e-tournament based on the world's only Mars rover repair simulator.