Over the years, the European Rover Challenge has become much more than just a robotics competition. Every year the ERC gathers world-class specialists, industry leaders and scientists from around the world and creates a knowledge-sharing platform for university students, space enthusiasts and potential space sector employees.
Previous editions' speakers & special guests include among others: Robert Cabana – NASA Associate Administrator, Steve Jurczyk – former NASA Associate Administrator, Robert Zubrin – founder of The Mars Society, Harrison Schmitt – NASA Astronaut and member of the legendary Apollo 17 mission, or Tim Peake – an European Space Agency's Astronaut.
Find out more about this year's confirmed speakers below ↓
This list will be updated regularly.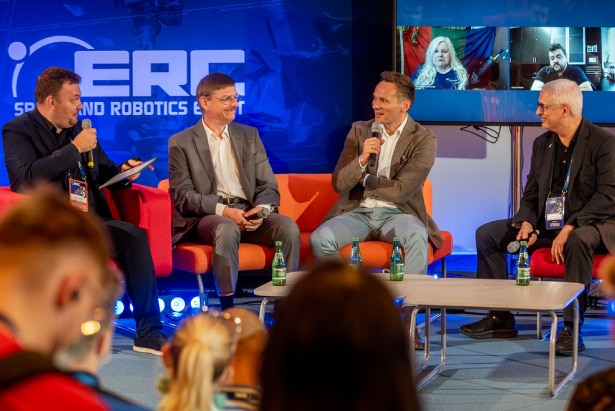 FAQ
Where can I find more information about the agenda?
The regularly updated, detailed information about the agenda – the Inspiration Zone, competitions and workshops – will be available in the VISITORS and ABOUT THE ERC -> INSPIRATION ZONE tabs on our website. We also invite you to follow the ERC profiles on social media.




How can I participate in the event?
Basically, you can participate in two ways: on-site and online. If you come to Kielce (Poland), you will be able to see experiments, interactive shows and presentations prepared by our exhibitors as well as take part in mini workshops. You will be also able to see the Mars Yard up close, spectate the competition and listen to debates in the main hall. If you can't come to Poland, you can watch the livestream on our website to follow the competition progress, listen to passionate debates and presentations of our speakers. The livestream will be provided exclusively in English.
Is the admission to the event free?
Yes! Participation in all attractions, livestreams, shows, lectures, workshops and debates are free of charge. You can use cash though to buy gadgets, posters or books at the on-site exhibitors' stands.